You are here
In Conversation With DJANE Donnaa
DJANE Donnaa recently spoke with us. Here's the interview
Djanemag India: To begin with, could you tell us a bit about your roots, educational background and interests apart from DJ'ing?
DJANE Donnaa: I come from a family where music has always been appreciated. My mother is a classically trained singer and my father is a retired marine engineer. Music was introduced to me at a very young age, probably even in my mother's womb for all I know. I have an elder sister who is also a very good singer. I was into dancing as a kid and started learning kathak at the age of 3 and had to discontinue when I went to boarding school, but that didn't stop me. I pursued dancing by participating in school annual functions and also came second in singing. I have always had a passion for art since childhood. I enjoy painting, writing, singing, watching movies, reading, playing video games when I'm not working. I went on to graduate in Journalism & Mass Communication.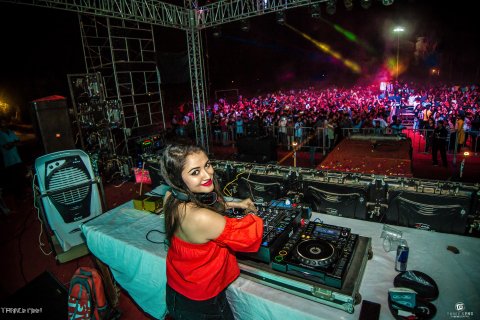 Djanemag India:  What got you into DJ'ing? How did people around you react to this decision of yours?
DJANE Donnaa:  I always knew I wanted to do something in the creative field. The journey wasn't easy and there were lots of ups and downs along the road but it was fruitful.
DJ'ing wasn't something I planned on pursuing. I used to be a professional dancer when one of my dj friends asked me if I wanted to learn and perform. I was quite skeptical at first because I wasn't sure how my father would react, but I knew how much I loved being on stage and being able to perform. Initially he didn't approve of it as education was always a priority, but seeing my growing passion towards DJ'ing he approved of it. And years later he asked me to study Music once I was done with my graduation. My mom on the other hand always backed me up whether it be for dancing or DJ'ing, she has always been my backbone. She even accompanied me for several of my shows as I was a teenager. My friends were also very supportive. 
Djanemag India:  Tell us more about your journey as a female DJ in this country.
DJANE Donnaa: Life of an artist is never an easy journey. There are no guarantees. But if you stick to your passion and work effortlessly, nothing is ever impossible. And that's exactly how it turned out for me. I started off as a teenager. I was pursuing my education side by side with my shows, travel, and other commitments towards my art. The road had a few bumps, but nothing can ever match up to the happiness I get when I'm sharing my passion with the world; to make a difference, to bring joy and happiness in someone's life for that brief moment. To take my audience on a musical journey is the best feeling and it brings me utmost joy to be able to share that moment with my audience, my fans.
Djanemag India: What were the major setbacks you've faced in coming all the way where you are today?
DJANE Donnaa: Back in the days the social media and digital marketing was not as efficient as it is today. I think that was a bit of a setback. Technology has evolved and it is a blessing in disguise. Social media has become a part of our daily life. New technologies have helped to learn, to hone your skills, to reach out to the audience, in a much broader way. Everyday has been a new learning experience, since.
Djanemag India: Which is the genre you're most comfortable with? Also in your daily life is this the genre that you like to listen to all the time?
DJANE Donnaa: I'm an outright music lover. I play all genres and shuffle as per my commitments. Commercial, Bollywood, EDM, Hip Hop are my forte.
My daily dose of music depends on my mood. I like to hear to Jazz, Classical, HipHop, Reggaeton, Hindi and English Retro, House Music (progressive, tech, deep, minimal, techno), Soft Rock, and many more.
Djanemag India: Do you have any DJs/Djanes that you really want to work within your career? Why them?
DJANE Donnaa: I would love to work with as many artists as possible. Everyone has a unique approach towards their arts and it is marvelous to see each one spinning their magic behind the console.
Djanemag India:  Any specific memory with fans (good or bad) that remains etched in your memory?
DJANE  Donnaa: I have met a lot of beautiful smiling faces. There are so many good memories that I have witnessed in the last 15 years of my career that it would be wrong to specify any one in particular. Each one has showered me with immense love in their own possible ways. Thankfully there aren't any bad experiences with them etched in my memory.
Djanemag India: Any message for the upcoming Djanes, specifically here in India?
DJANE Donnaa: To all you beautiful lovely next generation DJanes out there, be willing to work hard, learning along the way cause there will be a lot of ups and downs (just like in any other field of work) but don't give up on your passion. Take risks, learn everyday, and don't be afraid of failures. Follow your dreams and make them a reality, no matter how long it takes, give it your best shot and don't give up. Where there is a will there is always a way.
Djanemag India:  Any message for your fans.
DJANE Donnaa: My loving fans, the same goes for you. No matter what you do, do it with passion. Love what you do even if it is risky and you will see that work will never feel like work anymore. Don't be afraid to fail, failure is indeed the pillar of success. Good Luck with all that you do. I love each one of you with all my heart.