You are here
In Conversation With DJANE Kamya (Exlusive Interview with DJANEMAG INDIA)
Djanemag India: To begin with, could you tell us a bit about your roots, educational background and interests
apart from dj'ing?
Djane Kamya: My roots are as grounded as they were, to begin with (ha ha). I was born and raised until 18 years of age in Ghaziabad and then in New Delhi where I did my graduation from Delhi University. This was followed by a DJ'ing and music production course from Dj Nasha's Academy, Mumbai. I have multiple interests though. I can watch tv anytime, like I can watch pretty much anything on  the T.V; besides this, the substantial things which interest me are - cooking ( I love cooking for family and friends), traveling and exploring is something I have always loved (apart from for professional reasons), and I've traveled around the globe all alone as well. The quest for discovering something new in yourself and testing your own limitations is what traveling does to you and nothing is more interesting than finding your own self out, let loose while playing and solving those inner riddles.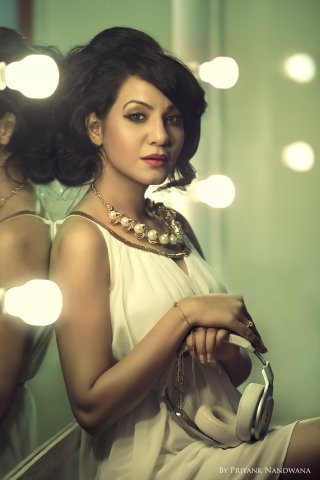 Djanemag India: What got you into DJ'ing? How did people around you react to this decision of yours?
Djane Kamya: I just knew I would do well as a DJ. I knew that I will not be disappointing people with my music. I believed in myself and I had faith that there will be no looking back and that's what happened exactly. I am still moving ahead and not looking back thanks to DJ'ing and my listeners and audiences, this is what has kept me going.
About people's reaction - I have no idea how they reacted to my decision. To be honest, I never gave attention to the reactions. My focus was on the reactions AFTER. It was my choice to be a DJ and I only focused on what I decided to do. My focus was winning the audiences' hearts and be loved by them and that's what I kept working on. God has indeed been kind, they still love me and some more!!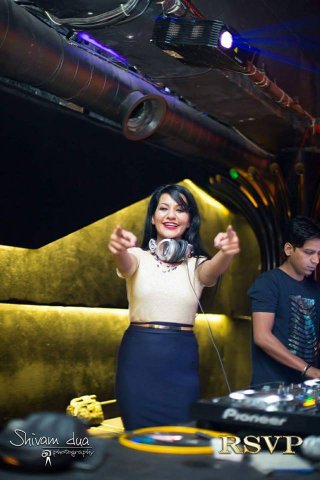 Djanemag India: What were the major setbacks you've faced in coming all the way where you are today?
Djane Kamya: If it still hurts me, it's a setback. Neither do I remember setbacks nor do I mull over setbacks. Like I said, I never cared about reactions; everything that happened in this journey was a learning for me. ''Be Happy Go Lucky'' is what my motto is both, personally and professionally.
Djanemag India: What genres are you most comfortable playing? Also in your daily life is this the genre that you like to listen to all the time?
Djane Kamya: Progressive, deep house (EDM) and Bollywood is what I am most comfortable with, but I love playing R&B as well. In my daily life, I listen to deep house and anything soft in English or Bollywood.
Djanemag India: What did it feel like to be playing live dhols at your gigs
Djane Kamya: At First -NOT EASY!!  But after playing a couple of times, I got the confidence. Your biggest strength and critic is your audience and that was my clue to keep going on with the dhol . Playing the dhol is a constant movement of both hands and matching the tempo of the dhol with the track so it drains you out physically.
Djanemag India: A success oriented person that you are, what keeps you going on and pushing boundaries?
Djane Kamya: Who said that one needs to push boundaries to be successful? Remove those boundaries or see what's on the other side of the boundary; if it's worth breaking or jumping the boundary then GO FOR IT! Why Push It!
Djanemag India: How different is the experience of playing at clubs than playing at events/festivals?
Djane Kamya: Festivals /events are an adrenaline rush and club performances are contained madness. That's how different the experience is and I love both of them equally.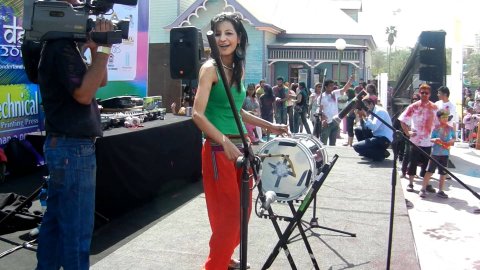 Djanemag India: Do you have any DJs/Djanes that you really want to work with in your career? Why them?
Djane Kamya: I would love to work with all of them, TOGETHER! I have already worked with most of the female and male DJs within the country and internationally as well. But the more the merrier!!
Djanemag India: Any message for you fans?
Djane Kamya: I am really grateful for your love. Keep loving me like you have always because it is your love that keeps me going and don't drink and drive, you are precious.
Djanemag India: Any message for the upcoming Djanes​?
Djane Kamya: Above all -- KEEP it real!
Have faith in your abilities
Be open to learnings
And be honest to your dexterity
And most importantly -- be humble.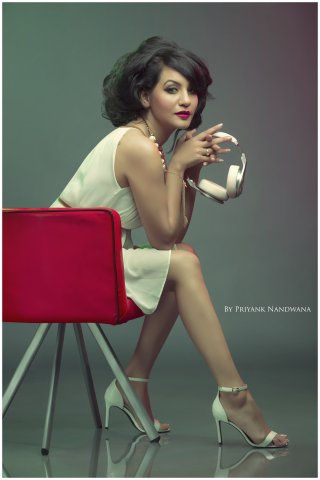 Don't forget to vote for DJANE Kamya in India's Top 20 Djanes. Voting begins on 15th July!