You are here
Julia Bliss at Sunburn Reload
India's #5 Djane Julia Bliss is all set to perform at the Sunburn Reload event this September at Bareilly, India. This powerhouse performer is known to bring a great variety to her sets and has never failed to make the dance floor go crazy.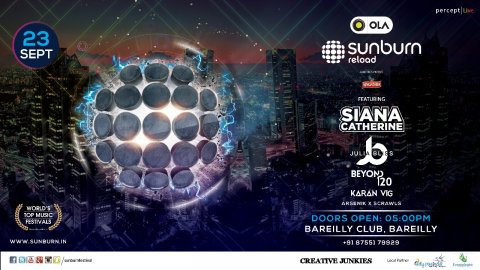 This is what she had said about her experience at festivals when we spoke to her a while earlier: "UFFFFFF! I love festivals! I live festivals. With due respect and commitment to the night club industry, I prefer to make thousands of people happy out in the open air, where we all get united by the sound of our heart beats. Love is in the air! The energy in the air that I feel from the stage at any of my festivals is mind blowing, strong and indeed indescribable! Music unites us all"
Do what you love and love what you do  is her motto and she is set to give you one amazing festival experience.
India, are you ready to witness some madness on the stage of Sunburn Reload. Also, dont forget to vote for her and make her India's Top DJane!