You are here
Sónar 2017 + Sounds of Sónar by Heidi
Sónar is a three-day electronic and advanced music festival. It was founded in Barcelona in 1994 by Ricard Robles, Enric Palau, and Sergi Caballero. The festival has been divided into two parts since its inception: Sónar by Day and Sónar by Night, with Sónar+D, a three-day congress dedicated to Creativity, Technology and Business running concurrently since 2013. The 2016 Barcelona edition attracted 115,000 attendees from 101 countries.
This year it is 24th addition od Sonar with insane lineup and art atmosphere! Don't miss) Among female DJs is lineup featured Heidi, Nina Kraviz and The Black Madonna!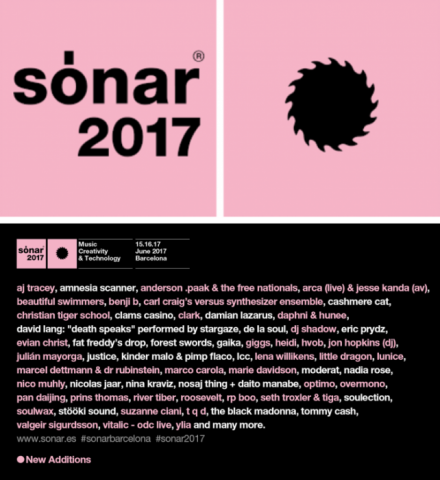 In addition we suggested you to check out special mix by Hiedi. 
"To say I'm excited is an understatement. I've waited 12 years to play this festival & I guess hard work and patience have finally paid off...... Sónar Festival thank you for including me this year! Here's an exclusive mix from me to celebrate!" - Heidi
Tickets are on sale here ---> sonar.es/en/2016/
Tracklist:
William Djoko - Dirtypella 
Chip E - Time To Jack (House Mix) 
Mr Lee - I Can't Forget (Dub) 
Jackathon Jams White Label
ZDS, KE- Picture Perfect 
Brett Johnson - Mr Johnson's Talk'n Now (OG Demo Mix)
MD3 - Pressure Cooker (Phil Weeks Remix)
Hector Vs Mike Dunn - Haunted Re Edit 
John Tejada & Justin Maxwell - 100% Post-Consumer
Kill Frenzy-313
Tiga VS Dense & Pika - Louder Than A Bomb (Dense & Pika Remix)
Radio Slave - Another Club 
Dakar - Punch (Original Mix)
Posthuman - Bringin' The News 
Paranoid London - Give Me The 
Jackathon Jams White Label
Mike Dunn - Key To Life (MD Vokal Life Mixx)
Farley Jackmaster Funk - The Acid Life